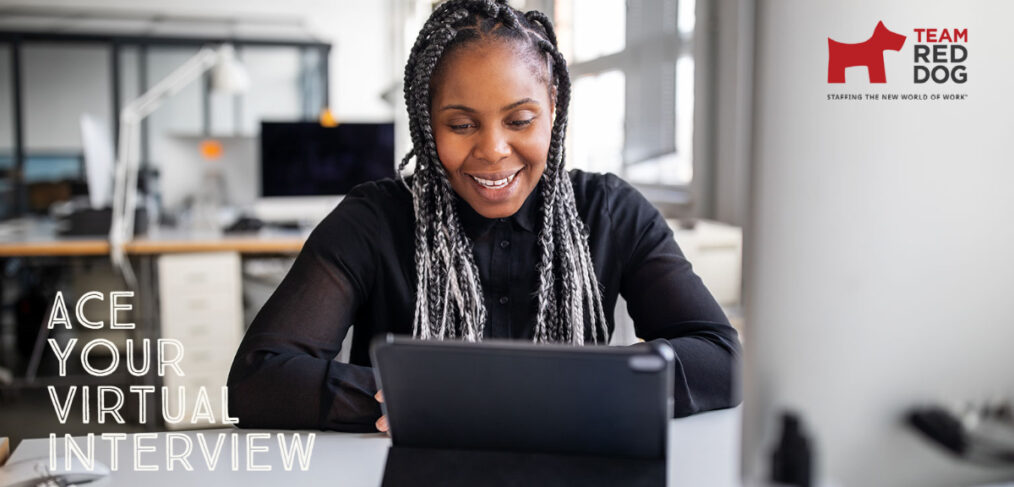 A Recruiter's Guide to Ace Your Virtual Interview (Part 1)
Ace your virtual interview and overcome common candidate challenges! Here are what some successful Team Red Dog candidates and leading industry recruiters say will put you ahead of the pack.
You're asked to interview through videoconferencing, and you're given a set time. With the clock ticking, we'll explore the top three challenges our candidates have faced, starting with the first challenge of the Virtual Interview.
Be Platform Adept: So you turn on the camera and start talking, right? Anyone who's been in a video interview knows that little things can turn into big obstacles fast when you're in a pressured situation like an interview. Knowing the intricacies of the videoconferencing platform that you will be asked to use is a way to separate yourself from others in the virtual interview process.
Candidates often assume that Zoom, Teams, Webex, Google Meet, and other platforms are similar to one another. This common misconception may just be the difference in whether you make it on time to your interview due to necessary downloads, whether you're able to adeptly navigate the control panels, and ultimately show your competence with the platform of your interviewer's choice.
A few tips:
• Infer based on the link and information shared, what platform you will be using for your interview. If it is not clear, then don't be afraid to confirm what platform you'll be using ahead of time.
• Be sure that you practice with the specific platform being used to ensure that you know how to unmute, how to navigate the camera function, what is visible in your camera space, and that your microphone is sufficient.
• Log on to the call at least 5 minutes early in case there are any new software updates that are required.
Did you find this post helpful? Be sure to check back for our next virtual interview challenge, showing your best self on camera and tips to master that.