How to Transform Resume Negatives (Infographic)
Trying to overcome an employment gap or short job stint on your resume?
As a Seattle-area staffing agency, we see a lot of resumes and know how to deal with potential resume pitfalls! Here are some guidelines straight from our expert recruiters on how to make those resume negatives disappear.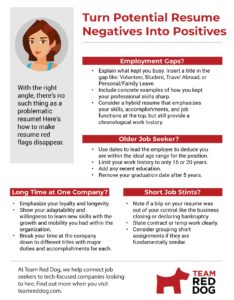 If you'd like a little more help with your resume, we've got you covered! You can get more details about overcoming resume red flags here. Or, if you're ready to kick your resume's effectiveness up a notch, why not add some personal branding?
Ready to put your hat in the ring for more career opportunities? Take a peek at Team Red Dog's open roles.