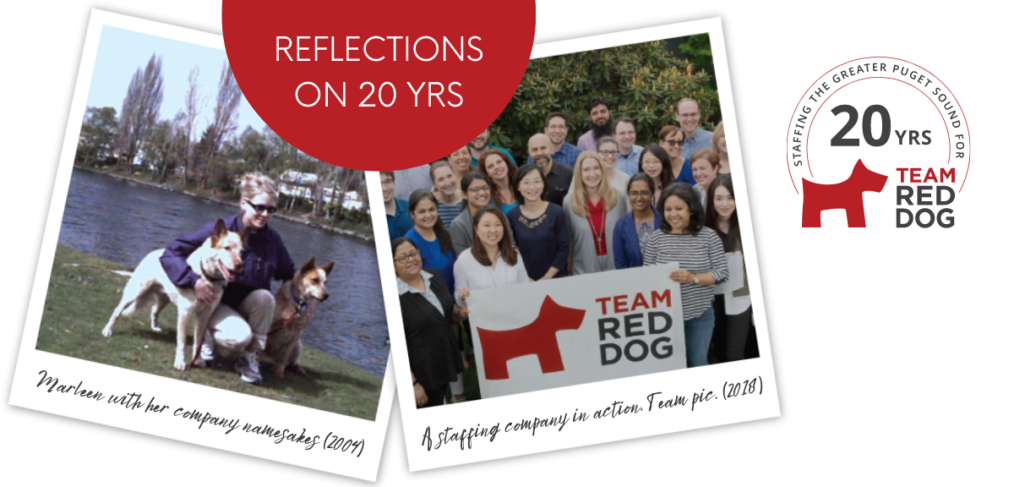 A CEO's Musings on 20 Years
As Team Red Dog celebrates 20 years in business, it's a great opportunity for a look back. For our company and across the staffing and recruiting industry, the last two decades have included change and growth. The staffing industry, from 2002 to 2022, grew from a $69B to a $138B industry including the rise of many global staffing agencies. Team Red Dog had a slightly different vision, with a boutique concept and a commitment to serving our Pacific Northwest clientele. 
From the beginning, our mission was clear—support our clients' needs and deliver cutting edge talent. While that mission has remained, how we do what we do continues to morph and evolve. 
The way we support
At the heart of our people-focused commitment is our competitive benefits package and high touch employee support. Team Red Dog offers all employees, including those who work on contract, the same rich benefits including health insurance, 401(k) with an employer match and even a profit-sharing retirement plan as all internal employees. 
The way we empower
Along the journey, we realized that candidates need more than to be placed in a job. They also need support along the journey. Team Red Dog has the unique opportunity to empower candidates and encourage them to grow in their career. From resume rescue sessions, to interview prep, to regular 1:1 mentoring and support for those candidates who we place on assignment with our clients, we believe that people go further when they feel supported. 
The way we include
As a Diverse Supplier for some of the world's most inspirational companies and organizations, we diligently look for a broad offering of candidates who can not only excel in their roles but who also bring a unique perspective to their teams. In fact, year after year, over 62% of the candidates we place are diverse candidates. 
The way we scale
Our company has always believed that being flexible and staying nimble works best for everyone! When our clients' needs expand or need to scale, Team Red Dog has been able to rise to meet that need. Today's businesses require strong, committed talent and that's what Team Red Dog provides, whether we're finding a full time Marketing Director or a contract Full Stack Developer; one role, or many, our team prides itself in continuing to scale and meet the needs of our clients. 
Team Red Dog is so honored to be celebrating 20 years in business. How fortunate we are to continue working with people who challenge the status quo with innovative, world-class products and services. The future is bright at Team Red Dog, and we look forward to empowering the next generation of candidates and continuing to work alongside some of the world's most inspirational companies and organizations. 
Cheers to 20 Years! 
Marleen Eitzen Shanks 
More anniversary hoopla here.